Italian imported bedding brand
From the group of Mateassificio Montalese S.P.A
PerDormie means "sleep guardian of everyone" in Italian.
PerDormire originated in 1971 and was founded by CASO family, which belongs to MATERASSIFICIOMONTALESE S.P.A (Italian Montales Group). Its headquarters is located in Florence, Italy.
With a modern production and R&D center covering more than 20000 square meters, PerDormie mattresses, born here every day, deliver excellent products, healthy sleep, PerDormie's pursuit of quality of life and care for people to all corners of the world through 350 boutique stores located in more than 40 countries.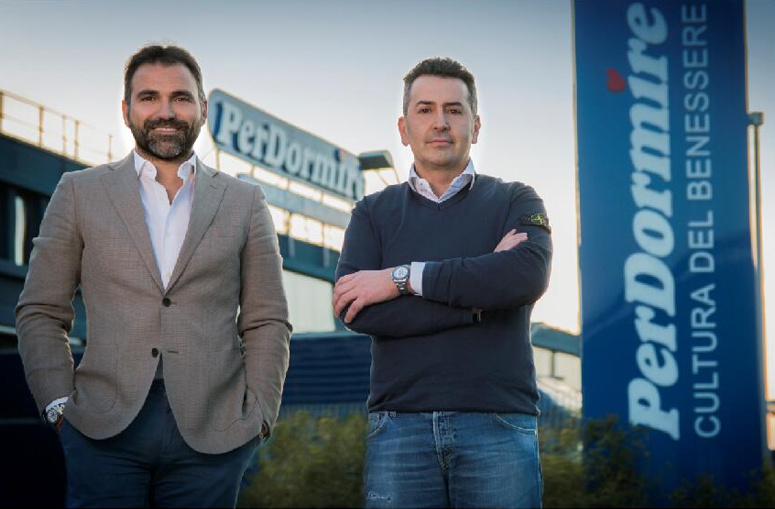 1

The first bedding brand in Italy

47

Made in Italy with 47 years of tradition

3000

Production of more than 3000 mattresses per day

40

Exports to more than 40 countries

350

More than 350 stores worldwide

148

The exquisite choice of 148 hotels
Everyone's sleep guardian
"We spend about one third of our lives in bed. For this reason no detail of the design, construction and finishing of PerDormire mattresses is left to chance. Every choice, every solution adopted every material used go to demonstrate the desire for quality that only a company with solid craft roots stores in its DNA has."
——Michele Caso, founder of PerDormire
It is our mission to bring high-quality sleep experience to every user.
The research and development department of PerDormire has made in-depth research on each product, from core materials to fabrics, from ergonomic analysis to stitching, and strives for perfection. In order to let customers experience pure natural sleep, PerDormie studies how to extract and use soybean fiber and organic plant essential oil, and how to make natural flax fiber more breathable, skin friendly and durable.
Each design detail and each production process are firmly controlled; Every material selection and every solution are reflected in the products, which will bring customers better sleep enjoyment. Respect our tradition, our customers, employees and partners, and the natural environment on which we live. Day after day, year after year, we adhere to such values.
European high standard certification
European skin friendly gel material product certification
Hotel sector for France
European Class I Flameproof Household Product Certification
International skin friendly product certification
British quality ft system certification
Every product of PerDormire meets strict quality standards and has high standards of certification
PerDormire products have obtained: OTEX - TEX skin friendly certification from international textile institutions, EU CE authoritative certification, Bayer Medical "LGA Pruf Zertifikat" certification, British "BS 100 certification", gel industry authoritative skin friendly certification "CATAS" and dozens of other world authoritative product quality and safety certification. Many products have also obtained the health product certification "Medical Device" of Italian Health, which proves that PerDormie products are really beneficial to health.
Italian medical and academic institutions designate cooperative research units
Medical institution Bayer Medical
Medical institutions, their business cooperation projects and services
With international standards and values
Biotechnology Formula Medicine
Global cutting-edge biotechnology company, once served in F1 events